Tue, Sep 1, 2020
Turn WordPress Website Into App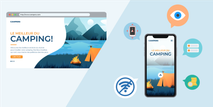 Mobile users spend 90% of their time on apps. Transform your WordPress website into a mobile application for iOS and Android in a few clicks with PandaSuite.
The WordPress website is often the first step of a digital strategy.
You have developed your WordPress site and you realize that your audience spends a lot of time on applications, you want to make your content available offline or you want to explore new features?
Convert your WordPress site into an iOS and Android mobile application without any line of code thanks to the no code PandaSuite tool.
The power of mobile apps
According to a study by eMarketer (Mobile Time Spent 2018), mobile users spend 90% of their time on mobile apps and only 10% on mobile sites. And this time spent on apps keeps increasing year after year!
This statement is the same in the different categories of the population, even among older people. On the other hand, the youngest (13-25 years old) are the ones who spend the most time on apps (70% of their digital life).
Americans between 55 and 64 years old spend 65% of their digital time in front of a mobile app. (2019 Global State of Mobile – Comscore)
People are mostly spending time on entertainment apps and social networks. But whatever your business, the app format is also useful for frequently updated applications (blog, news site, catalogs…).
Social media & games are the top used apps (The Manifest – Mobile App Usage Statistics 2018)
Benefits of mobile application compared to website
Moreover, mobile application relies on the native features of the devices and is not limited by the use of the web browser, which gives it better performance and more features.
Offline: even though mobile sites use caching to load web pages without an internet connection, some features are still limited.
Better visibility: reach a wider audience with app stores.
Brand presence: put your brand on your audience's phone every day among their favorite applications.
Push notifications: get out of your users' mailboxes and send messages directly to the phone to increase user engagement.
In-app purchases: implement a monetization strategy by adding integrated purchases. Users download for free. Beware of Apple and Google's commission on these purchases
Sensors: even if websites now allow you to use the functionalities of mobile devices such as accelerometer, camera, GPS… there are some limitations that don't exist in the mobile app!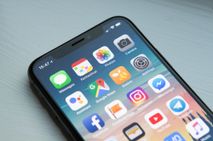 Install your brand in the daily life of your users (Photo by William Hook on Unsplash)
Convert your WordPress website with PandaSuite
With PandaSuite you can transform your WordPress site into a mobile application. Our no code platform offers you a simple and intuitive interface and many features to create your mobile application:
100% customization: build a personalized user experience and improve your conversion rate.
Multi-platform: onvert your website into an iOS application and an Android application.
Save money: you have probably invested your time, money and energy in your website. With PandaSuite, you don't need to hire a developer specialized in Java and Objective-C, the platform does it for you for 790€.
Native navigation: recreate your navigation menu from our design studio! This is the best way to get app store validation.
Interactions: with the PandaBridge library, trigger & receive markers between your web page and PandaSuite to set up an infinite number of possible interactions
It's quick: just a few steps and export your IPA and APK files for submission on the Apple and Google app stores
Automatic synchronization with your site: all your website updates are automatically available from the mobile app.
Help & Support: our team is here to guide you through!
How to convert your WordPress site with PandaSuite?
Create a project and insert a Web component in full screen. Enter your URL
If you want to recreate your navigation menu in the creative studio, create your buttons and use the function PandaBridge.setSnapshotData to bring up your different pages. Learn more
Export your IPA and APK files!
Discover the no code PandaSuite Studio editor
Share this article