Wed, May 25, 2022
How to Create an App Without Coding
Ever had a brilliant app idea but felt stuck due to a lack of technical know-how? You're not alone. The good news? The digital landscape has evolved, and so have the tools available to bring your vision to life. Dive into the world of no-code app builders and discover how they can be the perfect fit for your project.
A Snapshot of Our Digital Lives
In 2021, our smartphones became an even more integral part of our daily lives. On average, we dedicated 4.8 hours a day* to these devices. A whopping 87% of this time was spent on apps, leaving a mere 13% for web browsing**. This shift underscores the growing importance of mobile apps, not just for personal use but also in the business realm. Companies are increasingly leveraging apps to disseminate information innovatively and bolster employee mobility.
The Traditional Route to App Development
Previously, if you wanted an app, you'd typically collaborate with a developer or a digital agency. This process involved:
Collaborating with a mobile app developer to tailor the app's functionality.
Engaging a graphic designer to craft stunning mock-ups.
Reviewing navigation and design proposals.
Undergoing multiple rounds of discussions and functional tests.
Finally, launching the app to your audience.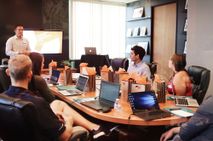 However, just like any other endeavor, there were numerous challenges that had to be addressed. For instance, if there were any necessary updates, users would have to go back to the agency to get them. Furthermore, if a new operating system update rendered their app incompatible, they would need to start the development process all over again.
In the present-day, with the rapid pace of the world we live in, this lengthy and time-consuming process is becoming increasingly impractical. As a result, there is a growing demand for more efficient and agile app development methods that can deliver faster results.
What is an app maker and no code?
The term "no code" covers all the tools that allow you to develop programs without a line of code. No code has become one of the major trends in IT development: according to Gartner, "70% of new applications developed by companies will use low-code or no-code technologies by 2025, compared to less than 25% in 2020"! The Covid-19 crisis and the urgent need to develop digital projects have amplified this trend.
But no code is not new. Look at Excel, which is one of the first no code tools! These spreadsheets and VBAs are simply a visual way to process a database.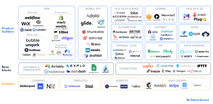 In terms of app development platforms, there are a lot of players in the market.
An app maker (app builder or app creator) is a no code tool to develop an application without technical knowledge. It is composed of a visual editor in drag and drop (WYSIWYG), many ready-to-use features (widgets) and various export possibilities.
This offer has been strengthened in the last few years thanks to dynamic features (connection to an API, database...). Previously, app makers were only used to create static apps, but today complex and business applications are possible.
These tools are aimed at project managers, students, graphic designers and entrepreneurs who want to develop their application project without any technical knowledge.
Why Consider a No-Code App Builder?
The app builder simplifies the process of building this type of project, reducing technical complexity and production time.
Full Control: As the creator, you have complete control over every aspect of your app. You can shape and execute your ideas exactly how you envision them.
Flexibility: Launching a basic version of your app within days allows you to quickly gather support and receive valuable feedback. This early feedback can help you make informed decisions and iterate on your app's features.
Cost-Effective: Unlike traditional app development methods that can be expensive, using a no-code platform like PandaSuite provides a cost-effective alternative without compromising on the quality of your app.
Continuous Improvement: No-code platforms are constantly evolving and updating their features. This means you'll always have access to the latest functionalities and can stay ahead of the curve.
Reach a Wider Audience: With cross-platform compatibility, you can design your app once and deploy it on multiple platforms such as iOS, Android, and the web. This allows you to reach a larger audience and maximize your app's potential.
Cutting-Edge Technology: Explore innovative features like augmented reality and image recognition offered by platforms like PandaSuite. These features can elevate the user experience and make your app stand out from the competition.
Extensive Support: No-code platforms provide abundant resources to support you throughout your app-building journey. From tutorials and documentation to pre-designed templates, you'll have access to a wealth of information and assistance whenever you need it.
But, It's Not All Rosy
Preparation is Key: No-code development requires proper planning and preparation. It is important to understand your target audience and map out the functionalities of your app.
Some Technical Know-How Helps: Although you don't need to be a developer, having a basic understanding of mobile app development can be beneficial in navigating the process.
Customization Limitations: It is worth noting that some no-code platforms may have limitations when it comes to customization. They might restrict you to using predefined templates, which can impact the uniqueness of your app.
Feature Limitations: While no-code platforms offer a wide range of features, there may be instances where you require a more specific feature that is not available. It is important to be aware of these limitations.
Code Ownership Concerns: It is essential to understand the terms and conditions regarding code ownership. For example, if you are using PandaSuite and the platform ceases to exist, it is important to know what will happen to your app and its underlying code.
Support and Resources: No-code development communities and online resources can provide valuable support and guidance throughout the app development process. It is recommended to explore these resources to enhance your understanding and skills.
Testing and Iteration: Testing and iterating your app is a crucial step in the no-code development process. It allows you to identify and fix any issues or areas of improvement before launching your app.
Collaboration Opportunities: No-code development can also provide opportunities for collaboration. You can leverage the expertise of others to enhance your app and bring new ideas to life.
Blending the Best of Both Worlds
While no-code platforms are revolutionary, they don't signal the end for traditional app development. Instead, they complement it. Complex projects or apps central to a company's strategy might still require traditional development. However, a hybrid approach is emerging, with freelancers and no-code agencies offering app development using no-code tools, ensuring clients get a tailor-made solution while retaining the flexibility of no-code platforms.
Top No-Code App Builders to Explore
Here is a selection of the best app builders to answer your different application projects.
PandaSuite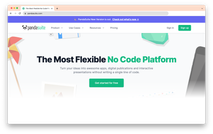 PandaSuite is the most flexible no code app builder. You can build custom applications and digital publications without a line of code.
Infinite possibilities: build mobile apps, audio tours, digital catalogue, digital learning, listings, church apps, interactive displays, digital magazines, interactive presentation...
The greatest freedom of creation: full customization, +50 components, animations, gamification (puzzle, drag & drop...), connect to database (local or external), native sensors (gyroscope, accelerometer, image recognition, Bluetooth BLE), logic & variables and much more...
Cross-platform & Offline: export as a native app for mobile/tablet (iOS, Android), for Windows. Publish to the app stores or not. Available offline for every device.
Free: Start building your app for free. Lots of resources are available for free.
Bubble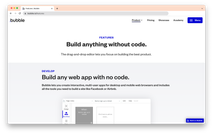 Bubble is a reference in the world of no code. It allows you to visually create web apps, with more or less complex scenarios (SaaS platforms, Market place, CRM) thanks to visual scraping.
The tool offers many online resources and many communities exist around this tool. Ideal for entrepreneurs, you can easily produce MVPs
On the other hand, Bubble does not allow the creation of native applications.
Appypie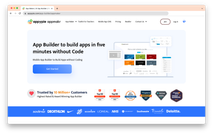 More than a million apps have already been produced with Appy Pie in over 126 countries! This app maker offers a wide range of features to create apps for all needs: restaurant, museum,
Many templates are available.
In terms of exports, you can create an iOS and Android app, as well as a PWA
Adalo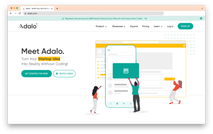 Adalo is an app builder that allows you to create powerful and complete applications. You can submit your app on the App Store and Google Play, or publish a web app. Visual and intuitive interface, design apps and many connections with other tools
Goodbarber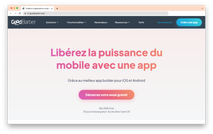 In conclusion, the world of app development has democratized. Whether you're a budding entrepreneur, a creative student, or a seasoned professional, the tools to bring your app idea to life are at your fingertips. Dive in and explore the possibilities!
*App Annie, State of Mobile 2022
** Comscore, US Mobile App Report 2017
Share this article