Wed, Jun 14, 2023
Top No-Code Platforms to Watch in 2023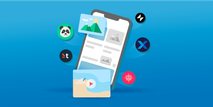 The no-code movement is booming in 2023, providing companies with unprecedented opportunities to accelerate innovation and democratize application development. By investing in no-code tools and training, businesses can unlock the potential of their teams, reduce costs, and improve operational agility.
The term "no-code" encompasses a variety of tools. What are the different types of no-code tools? Which ones should be known this year? Let's explore together! 😊
Understanding No-Code
The no-code movement refers to a development approach that allows for creating applications, websites, and automations without coding knowledge. This approach makes it accessible to everyone. Instead of writing code, users utilize platforms and tools with graphical interfaces, often through drag-and-drop functionality.
After emerging in 2020 due to the Covid pandemic, the no-code movement made significant progress in 2023 across businesses of all sizes. No-code platforms have become more robust, offering advanced features and the ability to create complex applications. They are also increasingly integrating Artificial Intelligence.
Companies are adopting no-code to accelerate digital transformation, reduce reliance on development teams, and empower non-technical employees to contribute to digital solutions. Communities around no-code are also growing, providing resources, training, and increased support for no-code creators.
Decoding No-Code Tools
The no-code movement is vast and can be intimidating at first glance. It includes a variety of tools, each designed to address specific needs, from mobile app development to database management. Let's explore the different categories of no-code tools:
App builders
App builders are designed to enable anyone to create mobile or web applications without coding skills. They typically use a drag-and-drop interface and offer pre-designed templates and components.
For whom? Ideal for entrepreneurs, small businesses, or even large organizations looking to quickly develop an application without going through traditional development processes.
Example: PandaSuite, Glide.
Back-end builders
These tools focus on building the "behind-the-scenes" part of an application or website. They allow you to create databases, APIs, and other essential features without writing code.
For whom? Perfect for those who want to build the logic and data structure of an application without getting into technical details.
Example: Xano.
Web builders
These platforms allow you to create websites using visual interfaces. They often provide pre-designed templates, widgets, and other elements to simplify the design process.
For whom? Ideal for bloggers, small business owners, artists, or anyone who wants an online presence without learning coding.
Example: WeWeb.
Workflow automators
These tools let you automate repetitive tasks by connecting different applications and services. They commonly use an "if this, then that" type of interface to define triggers and actions.
For whom? Perfect for businesses and individuals who want to automate tasks and improve efficiency.
Example: Zapier, Make.
Database builders
These platforms allow you to create and manage databases without using SQL or other database programming languages.
For whom? Ideal for those who need to store, organize, and access data without dealing with the usual technical complexities.
Example: Airtable, Timetonic.
5 No-Code Tools Worth (re)exploring In 2023
PandaSuite
Our interactive toolbox made in France!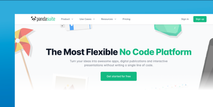 PandaSuite is more than just an app builder. It is an interactive toolkit that allows creators from all backgrounds to bring their ideas to life. The focus: customization, multimedia, and interactivity. Whether you want to create a mobile application, e-learning content, an interactive magazine, or even interactive support for touchscreens, PandaSuite is there for you.
Its strength? An intuitive interface that requires no coding skills. Add to that a library rich in components and functionalities, and you have everything you need to bring your digital projects to life.
Timetonic
The best friend of the IT department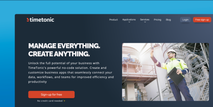 Timetonic is not your usual database management tool. It is a true Swiss Army knife that adapts to your needs. You can use it to manage your projects, track your clients, organize events, and much more.
Its uniqueness? A visual interface that allows you to "draw" your databases as you wish. No more getting lost in complicated tables. With Timetonic, everything becomes clear and simple.
WeWeb
Limitless web creation!
WeWeb is the tool you need if you dream of creating a professional website without pulling your hair out. With its drag-and-drop editor, you can design web pages as you would with building blocks and connect with infinite data sources.
But make no mistake, WeWeb is not just for beginners. Designers and developers will also find what they need with advanced features and great flexibility. And since it's a French tool, we can only say hats off to it!
Glide
Turn your data into applications!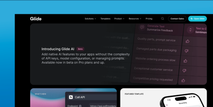 Have you ever wished to turn a simple spreadsheet into a complete application? That's exactly what Glide offers. In just a few minutes, you can turn your Google Sheets spreadsheets into mobile or web applications.
Whether it's for a company directory, a booking application, or a product catalog, Glide makes everything possible. Its interface is so simple that even your grandmother could create an application!
Xano
Back-end without the headache!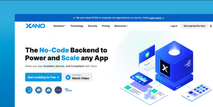 Xano is the dream tool for anyone who wants to build the back-end part of their applications without diving into code. With Xano, you can create APIs, manage databases, and even integrate third-party services, all from a visual interface.
Although it's a bit more technical, it's the perfect tool for those who want to focus on the user experience without worrying about complexity.
In conclusion...
No-code is undeniably a movement to watch and integrate in 2023. An event not to be missed for no-code enthusiasts and curious individuals is the No-Code Summit in October. See you there!
To learn more:
Share this article