Tue, Mar 15, 2022
Essential UI Design Elements for Your App Project
User interface (UI) elements are the blocks that are composing apps or websites. They add interactivity to a user interface, providing touch points for the users as they navigate their way around: buttons, app bar, menu items, error messages and checkboxes.
When creating your app, you need UI elements to create a visual language and ensure consistency across your product—making it user-friendly and easy to navigate without too much thought when users interact. This is how you will create a better application.
Here are the main UI elements you should know about. This list is not exhaustive but you'll find great ideas and inspiration for your next app project.
There are lots of UI kits available online for download. A UI kit is a set of files that contains critical UI components like fonts, layered design files, icons, and design components. There are several formats depending on the software you use for prototyping (Adobe XD, Sketch, Illustrator, Figma…).
Apple and Google provide UI resources for designing great apps that integrate seamlessly with their platforms:
iOS Human Interface Guidelines
User input
Utils
Content
Digital Portfolio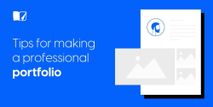 Add a digital portfolio to showcase your work.
List
Navigation
Tab bar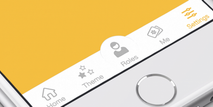 Tab bars appear at the bottom of a mobile app and allow users to quickly move back between the main sections of an app.
Share this article