Thu, Jan 26, 2023
Turn Data Into Fun With Interactive Infographic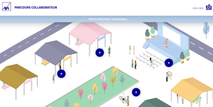 Have you ever seen an infographic that made you want to click, scroll and explore further? Creating an interactive infographic is about bringing a little magic to your users, it's about turning complex or technical content into a love machine 💖.
The good news is that today you can easily create your interactive infographic: no need for a developer anymore, you can visually create any interactive content without a line of code! Whether you are a graphic designer, project manager or marketing professional, discover the secrets of interactive infographics and what they can offer you.
What is an interactive infographic?
Back to the basics. What is an interactive infographic? Okay, you've got a clue from the name... 😇
An interactive infographic is the combination of infographics, which is a visual and attractive representation of information, and interactivity, which allows the user to be an active in this consultation. It is used to make complex information accessible, understandable and easily memorable. It is used extensively in online media, education, corporate communication and product marketing.
Static infographics really took off in 2010, alongside the flat design trend. Today, technology and digital tools easily allow graphic designers to go further by making their infographics interactive and without any coding.
The advantages of interactive infographics
It's pretty, it's nice ... but what's it for?
Interactive infographics offer many advantages:
Better engagement: Interactive infographics are more engaging than the static ones, as they give users the opportunity to actively participate in the learning and discovery experience.
Better understanding and retention: the user views the data intuitively and explores it interactively, making it easier to understand and retain.
Cross-platform: it can be used on a wide range of devices such as computers, smartphones and tablets, allowing flexibility for users to access it from anywhere at any time. Often made in HTML5/Javascript, interactive infographics can be integrated anywhere: within a web page, in a presentation or on a touch screen.
A better user experience: highly visual and dynamic, interactive infographics improve the overall user experience.
Types of interactive infographics
Behind the term "interactive infographic", there are several types, depending on the data and the means of representation used:
Interactive charts: ideal for displaying statistical data, such as market share, sales or growth rates. Users can interact with the data to obtain detailed information.
The interactive timeline: this is a time line that displays information. The user can navigate through time to get detailed information.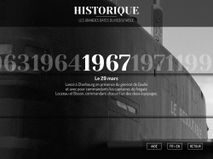 The interactive map: the data are represented on a map and from a geographical angle.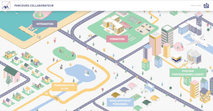 Scrolling infographics: these show data in an animated way, using scrolling effects to draw attention to important points.
The features of interactive infographics
Every interactive infographic has common elements:
Buttons or clickable elements: these generally display information above the illustration
Animations: they bring modernity and dynamism. Simple transitions or motion design animations made with AfterEffect and Lottie, there is something for everyone!
The ability to zoom: buttons allow you to view part of the interactive infographic and access more content.
Videos: multimedia content enriches the experience and provides a better understanding.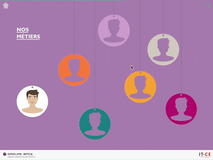 Some tools for creating an interactive infographic
A few years ago, making an interactive infographic required working with a developer. It was time consuming, expensive and there could be a few surprises at the end. But that was before.
Today, many tools are open to everyone, of which PandaSuite is one.
PandaSuite is an easy-to-use and fun platform for making interactive content and apps. Its great freedom of creation and its multiple export formats (Web, iOS, Android, Windows) make it a reference tool for interactivity lovers. Create your own interactive infographic and export it in HTML5 format for all uses.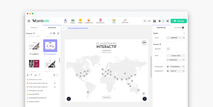 Other well-known tools for creating interactive infographics include:
You have no more excuses! The interactive infographic is waiting for you 🚀
Share this article